Every job requires specific tools. For example, you wouldn't try hammering a nail with a monkey wrench or a screwdriver, right? Completing a task with the wrong tool is not only difficult and inefficient, but it can also be dangerous.
The same principle applies to fitness. What we wear, from our clothes to our shoes, can determine the success of our workouts. After all, you wouldn't wear a pair of soccer cleats to go bowling or ballet slippers to play basketball and expect to play well.
But in the rush of our busy days, we seldom choose equipment that's tailored to our highly personalized fitness and lifestyle goals. It might be easier to grab that pair of old running shoes for your next trail race or weightlifting session—we've all done it. But taking the time to select the appropriate footwear for each activity will improve your performance and help prevent injuries. In addition, your bank account will thank you for extending the life of your shoes. 
Everyone's fitness needs are as diverse as they are dynamic, shifting with the seasons, your schedule, and your ambitions. So, before all the available footwear options can overwhelm you, here's a short guide to help you select the ideal trainer for any type of workout!
If you routinely alternate between exercising in a gym and on city streets, Reebok's hybrid trainer, the Nano X2, will be your most reliable companion. It's so versatile it might even be welcome in a ballet studio. This durable switch hitter can accommodate a broad spectrum of workouts, from sprints and burpees to weightlifting and cross training. 
The X2 abounds with features. Its Flexweave® upper keeps your feet cool under pressure while stretching to provide targeted support. The Floatride Energy Foam in the shoe's sole and forefoot strikes the perfect balance between cushion and spring, allowing you to wear the X2s for both super stable squats and demanding plyometric moves. And with a high-traction lug pattern on the outsole for extra grip, the X2 will keep you on your feet in even the slipperiest conditions.
In short, the Nano X2 is the answer to an age-old question: What shoe is suitable for a little of everything but also advanced enough for elite athletes? So, whether you're fighting through hill sprints or sprinting after your kids in the supermarket, you're in good hands—or shoes, that is—when wearing the Nano X2.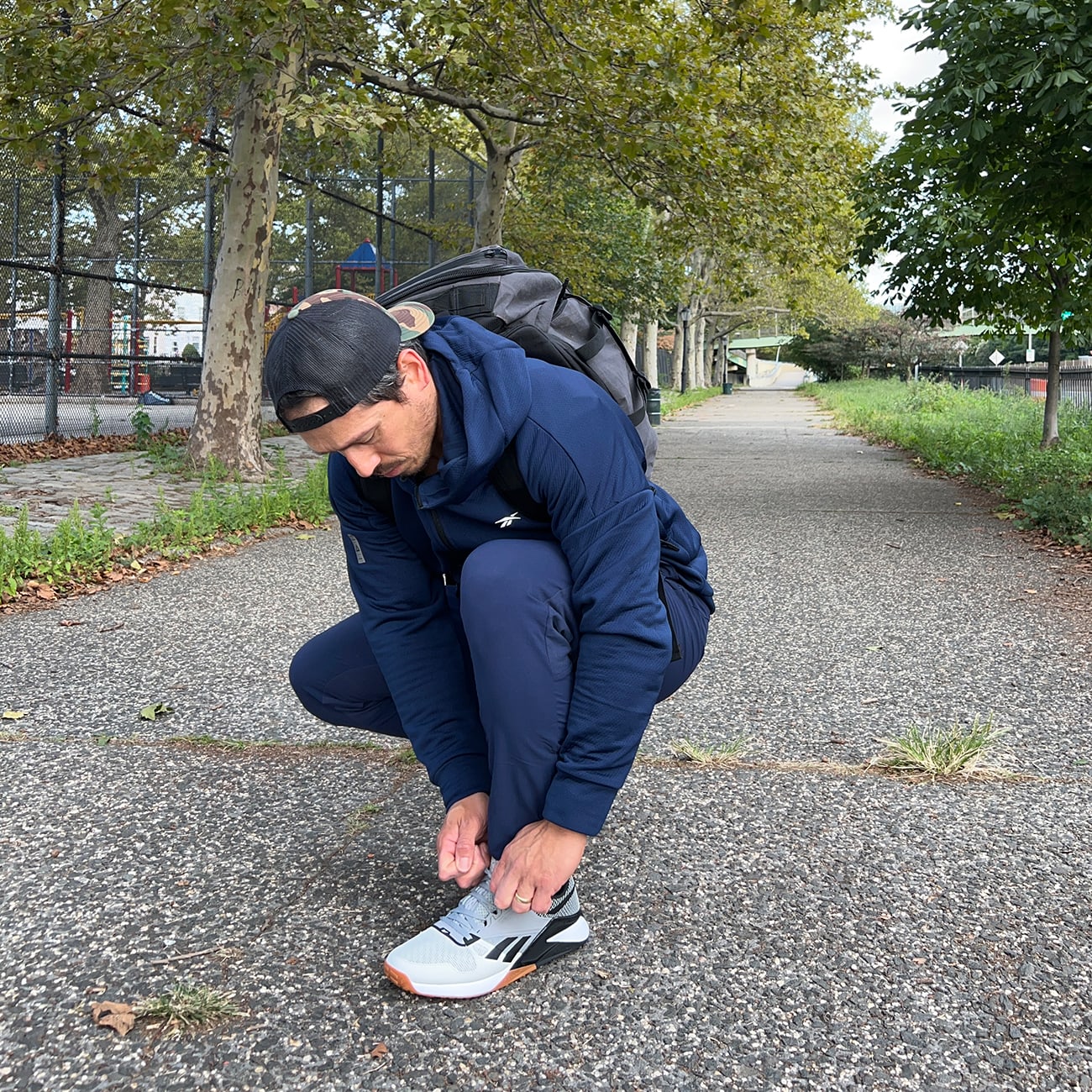 If you need a shoe you can wear to your side hustle that will also perform when you're doing side lunges, then the Reebok Nano 6000 will be your first choice. An accomplished multi-tasker, the 6000 boasts a tricolor design that echoes Reebok's iconic '80s heritage while featuring the same components and bulletproof foundation as the X2. This lifestyle-inspired trainer will appeal to anyone whose tastes lean retro but who still needs a lightweight, breathable shoe built to withstand an array of punishing workouts.
Whether you're working out in the park or working from the corner café, the 6000 is a shoe uniquely suited to helping you look good while staying fit in our new normal.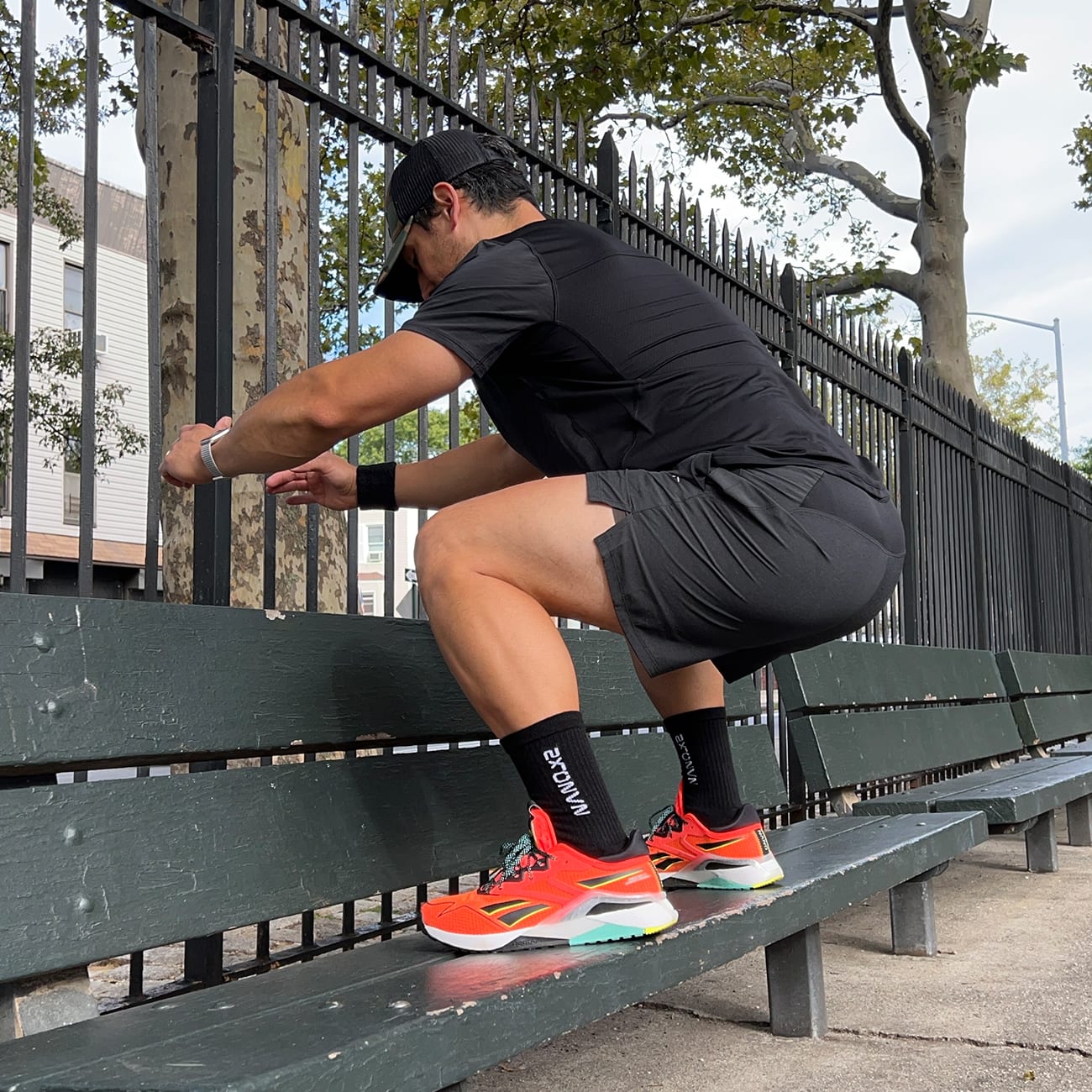 If you're like me, and your gym of choice has become a driveway, a sandy trail, or a postage stamp of concrete outside your building, then the Nano X2 Adventure might be your new favorite shoe. The Adventure takes the winning concept and sleek silhouette of the X2 and wraps it in a rugged exterior with a nylon ripstop upper to better endure the elements.
Whether you're performing calisthenics in the park or hiking through the woods, the Adventure has you covered with upgraded features including extra cushioning in the heel and raised lugs on the outsole to help combat unpredictable conditions. Also, the Adventure comes in new colorways with reflective accents.
Slipping on a pair of X2 Adventures, you'll be inspired to escape your apartment or office (or both, for some of us) and go on a journey—even if it's just to get some Vitamin D.
Did you know that there are shoes designed specifically for weightlifting? Now, I don't mean a pair of shoes can improve your bicep curls and tricep extensions. I'm talking about the heavy compound movements collectively known as the Olympic lifts: the snatch, the clean and jerk, the squat, and their derivatives. 
While you don't need to wear specific shoes to perform these lifts, if you're serious about increasing your one-rep max for any of them, investing in a quality pair of lifting shoes, such as the Reebok Legacy Lifter, is essential. The Legacy Lifter's stable platform and raised heel help you overcome flexibility issues while allowing you to generate more power and force from the ground up. This will push you to set new PRs and build your confidence when lifting heavy loads.
Now you have a brief overview of some of the tools—in this case, footwear—at your disposal, and why taking your footwear as seriously as your workouts is a key factor in meeting your health and fitness goals!
Kevin Torres of @dadbod_wod is a father of three, and the founder and head coach of the
Forging Elite Fathers